Passpartout: The Starving Artist review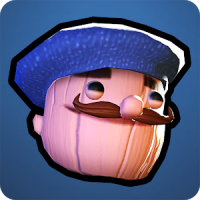 Published & copyrighted by Flamebait Games
All trademarks belong to their respective owners
Passpartout is one of the games that seem to have nothing in common with chart toppers. It's a story of a starving artist (just what it says on the tin) who tries to sell his works in order to make a living. Combine the skills of an artist and an entrepreneur to survive and enjoy your wine!
Gameplay 10/10
It's probably one of the most unusual games available. Your character is a poor French artist trying to sell his pictures. Being a Frenchman, he adores good wine and baguettes, and they cost him. So the primary mission is to sell your works to someone who will appreciate them. But it's not easy, as the gallery is full of those esthetes who just criticize your works and never buy. So, it's up to you to get recognized by them.
The way you climb to your success is, of course, making pictures. The game features a special utility for that, in fact, a simple picture editor. You can adjust the thickness of your stroke and select colors; that's all. With this tool, you need to paint something they will finally appreciate. Listen to what they say and try to satisfy. Or try to convince them that you are in fact a genius with conversation tools you always have. Anyway, paint what you like and just have fun!
By the way, you can save your masterpieces after drawing that. We have once made an indecent version of Magritte's La trahison des images, and it was appreciated by colleagues in real life, though not by gallery visitors in the game.
Visuals 8/10
It's funny, that's the word. The artist's workshop, the galleries, the customers and critics look like taken from some European ironic comic book (maybe they are). But what deserves the closest attention is your own artwork.
The app features a canvas with paints you use to create your masterpieces. Alas, it requires a high-performance device, and if a flagship phone or tablet satisfies, an older device will get you stuck. Well, some say an artist must be hungry, but an artist should not save on canvas and colors.
Play Play Repeat 9/10
Inexhaustible as art itself, this game encourages you to draw with its own approach. Trying to satisfy all those versed snobs is a very specific sort of fun, but it may encourage you to experiment with drawing, to master new techniques (as far as the editor allows), to try new styles. And maybe once you will succeed in it.
Controls 7/10
When a game requires drawing, one might expect it to be fully optimized for that. And yes, you can draw with your finger or a regular stylus. Alas, even if your device is Galaxy Note or something like that, you won't make use of your advanced stylus. It's just not supported, though those with Note phablets would probably make the core audience.
The Verdict
It's a very unusual game that requires both creativity and fantasy, with no recipes or instructions you can follow. Artists go their own way, so do it. At least, you'll have your pictures (if you bothered to download and save them) and a chance to laugh.