Pandora Music review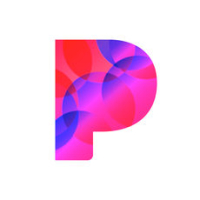 Published & copyrighted by Pandora Media, Inc.
All trademarks belong to their respective owners
So, you don't have to use your precious gigabytes for music anymore. With Pandora you have personalized musical experience and your playlists available anywhere. Stream them to your device and listen to more music than you could ever collect!
Interface 8/10
Like you might expect, the app looks like a hybrid of a local music player and an online radio. The service broadcasts metadata along with music, so as it plays a song, you see the name, the artist, the album or single cover, and so on. In playlists, it displays the track listing, length of tracks, control panel and other options we've got used to. There is a search field, but it only unveils its true potential with Premium subscription.
The free version displays ads, but after you subscribe to Premium, they'll be gone.
Menu and Features 9/10
The main feature of personalized streaming radio is not that exclusive; Pandora shares it with Spotify, Google Music, iTunes Radio and other similar services, but it does it greatly. As you register, you select some tracks or artists you prefer, and then Pandora recommends you tracks and artists you may not know, but you may like, according to tastes of users that share these particular preferences.
In the free version, Pandora is ad-supported, and its features don't go far beyond Internet radio, with personalization feature. Premium account ($9.99/mo) unlocks more possibilities. You can create your personal playlists of tracks you select yourself, search for particular tracks and get them on demand, and cache tracks for offline listening. Within recommended playlists, you unlock unlimited replays and skips. Streaming quality gets better too. And yes, it gets you rid of ads. There is a cheaper Plus option for $4.99/mo that limits your caching down to four stations and offers no playlists, but the rest is the same.
Pandora also offers lots of podcasts on any topic you may imagine, and they're available in the separate section.
Usability 9/10
The app is supported throughout the entire Apple ecosystem. You can listen to it on your iPhone or iPad with this app, and there are separate apps for watchOS and tvOS. Besides that, tracks and playlists are easy to share within iMessage. The interface is clear and easy in all versions. While playing it on your iPhone, you can control playback and volume with your Apple Watch.
Any Glitches? 9/10
Probably the worst about Pandora is its unavailability outside the selected countries. It blocks access from foreign IPs, so you'll have to use VPN along with your credentials to log in to it while abroad. The rest works quite smoothly.
The Verdict
Pandora deserves its high position in musical app rating. It offers really personalized musical experience, delivering both what you already like and what you may like according to its big data research. If you're lucky and Pandora is available in your country, try it. It may replace other musical services you preferred before or set you free from storing your musical library locally.