Concrete Calculator Pro review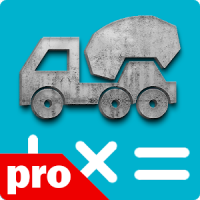 Published & copyrighted by pixelsdo mobile
All trademarks belong to their respective owners
Concrete works require high precision. The specific calculator for concrete works is made for building needs, considering its specific requirements and typical calculations. It features templates and layouts to calculate necessary volumes of concrete and its ingredients. Engineers and builder will surely appreciate it.
Interface 8/10
When you need to make a certain type of calculation, you just need to find the template that you need and enter the numbers you already have (measurements of footing, volumes of certain ingredients, and so on). The app has most of the calculations you may need already premade, so you only need to substitute the numbers, and it does the math and shows you the result.
The app features night mode, that seems a bit unexpected for such a specialized app, but it's a pleasant surprise.
Menu and Features 10/10
Calculations are made easier with this calculator due to its specific features. For example, you can calculate how much concrete will be required for concreting a perimeter footing of a certain size. Knowing its inner and outer width, height, and thickness, you'll easily calculate how much concrete it takes. You can also estimate waste share, in order not to run out of concrete before the work is done. As you know, it's better to waste some concrete than to sacrifice structure integrity. The app features some typical layouts for you to use when your footing is not strictly rectangular.
When it comes to mixing, the app takes into consideration the parameters of concrete required for certain necessity and shows the required amounts of cement, sand, and aggregate required to make as much concrete as the work takes.
Constructors will appreciate its features like measuring ingredients and mixed concrete in bags, with the size of a bag adjustable. It also calculated bricks and blocks needed for walls with certain parameters.
Usability 10/10
Due to premade calculation pages, the app only wants the exact numbers from you to provide the result. It saves lots of calculations made with the regular calculator, though sometimes, when you need to do some job not provided by developers of Concrete Calculator, you won't be good with just this app.
Any Glitches? 9/10
While checking this app in theory, we have found none. Maybe pros will find some features it lacks or things it does wrong. But lab testing proved that the app works okay. It requires no Internet connection, so its availability won't suffer when you're offline.
The Verdict
It's a highly specialized app; if you have nothing to do with the building industry, you simply don't need it. But if you're a construction pro or you plan to build your house yourself, you'll probably save lots of time and avoid unnecessary expenses with this calculator. Though it's paid, it's definitely worth its price.